Why Andrea Dovizioso is already 2017's MotoGP winner
Andrea Dovizioso's hopes of clinching a first MotoGP title this weekend at Valencia are slim, but Oriol Puigdemont argues the Ducati rider will leave Spain as a winner regardless
Many parallels have been made between this MotoGP season and 2006, when Nicky Hayden defied the odds to beat Valentino Rossi to a premier class title that nobody expected him to win.
But while Hayden had to surmount an eight-point deficit to beat Rossi, Dovizioso has a mammoth 21 points to make up on Marc Marquez, making winning the title virtually impossible.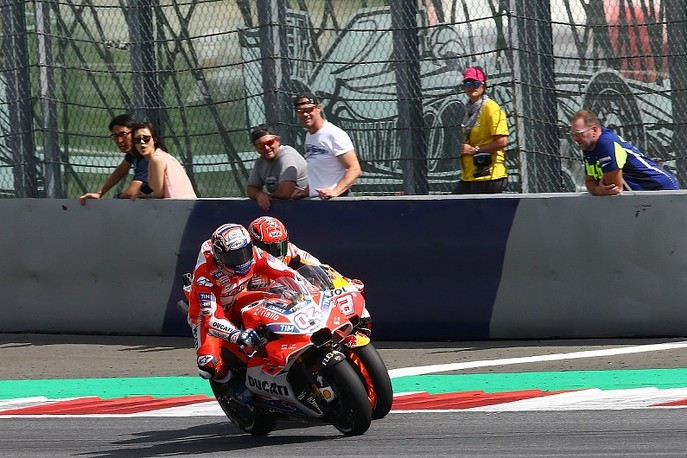 To have any chance of the crown, Dovizioso has to win the race on Sunday. Doing so would give him seven wins for the year, and put him one ahead of Marquez - an incredible feat in itself, regardless of what happens in the championship.
If we put the numbers aside for one moment, what seems nearly certain is that the 2017 season will be remembered primarily for Dovizioso's achievements rather than Marquez's in years to come.
In 12 months, Dovizioso has transformed his standing in the MotoGP paddock, going from bit-part player to one of the championship's main protagonists with a series of giantkilling displays aboard the Desmosedici.
What's more, Dovizioso has managed to do this despite starting the year as Ducati's clear number two rider, having won the battle not to be replaced by three-time premier class champion Jorge Lorenzo against Andrea Iannone.
Incidentally, Lorenzo is the only man who has previously equalled, let alone beaten, Marquez's victory tally in a season since the Honda rider's MotoGP debut, emphasising just how impressive Dovizioso's current 6-6 win count against Marquez already is.
Such a statistic puts into focus exactly what Dovizioso has achieved this season, and the fact he has managed this transformation at the age of 31 makes it all the more remarkable.
There's no magic ingredient to his success, just a tremendous analytical capacity and an intimate knowledge of the Ducati's strengths and weaknesses, combined with a laser-like focus on overcoming those weaknesses come race day.
Not only has 'Desmodovi' dramatically improved his reputation this year, his efforts will have been rewarded handsomely by performance bonuses, as well as a significantly improved negotiation position come contract renewal time.
His current pay packet of around €2million is certain to rise, especially if other factories - he revealed earlier this year he was close to a return to Honda - come knocking.
Dovizioso's career has had an unusual trajectory. Lorenzo's closest rival in 250cc, he arrived in MotoGP in 2008 as a hot property and nearly beat factory Yamaha rider Lorenzo to top rookie honours aboard an unfancied JiR-Scot Honda.
That earned Dovizioso a promotion to the factory Honda squad in 2009, but three seasons yielded just a single win and he was always in the shadow of Dani Pedrosa and later Casey Stoner when the Australian made it a three-man squad in 2011.
The same was expected to happen this season at Ducati, as the Italian manufacturer decided it needed an 'alien' to spearhead its championship challenge and forked out big money to lure Lorenzo away from Yamaha.
Nobody imagined that Ducati would have to issue team orders to its new star in the penultimate round of the season to allow Dovizioso through to keep its dreams of a first MotoGP title in a decade alive.
Zdroj: autosport.com